Wien Museum Karlsplatz
Otto Wagner (1841-1918) is one of the world's foremost architects of the late 19th and early 20th century. The Wien Museum devotes a comprehensive exhibit to the architect who turned Vienna into a global metropolis.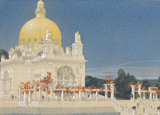 Wien Museum Karlsplatz
The exhibition "Skin Deep" deals with the practices and meanings of modern body care and styling from the eighteenth century onwards.
News from the Wien Museum
New in the Museumsshop
Reading season: All available Wien Museum exhibition catalogues and publications are now also obtainable online (order services in German language only).
Brochures
The Wien Museum provides downloadable material (information brochures in PDF format) in English. Info in Japanese is available for the composers' residences.