Wien Museum Karlsplatz
Vienna Calling portrays six decades of pop history through the lens and soundscape of Vienna's hottest and hippest bars, night clubs, squat houses, radio stations, and studios.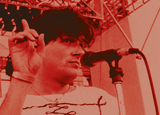 Römermuseum
Recent excavations of the Rochus Market offer exciting new insights into the history of Vienna, documenting the first tangible evidence of an encounter between Romans and Celts in our latitudes.
News from the Wien Museum
A gem of Viennese Modernism!
Vienna's fin-de-siècle forms the backdrop for the prodigious career of Vienna's pioneering modernist architect and city planner. A mere minute away from the Wien Museum Karlsplatz!
New in the Museumsshop
Reading season: All available Wien Museum exhibition catalogues and publications are now also obtainable online (order services in German language only).
Sisi's Palace of Dreams
Opulence surrounded by the natural beauty of the Vienna Woods. Nowhere in Vienna is the experience of imperial domestic life more authentic than in "Sisi's Palace of Dreams."
Brochures
The Wien Museum provides downloadable material (information brochures in PDF format) in English. Info in Japanese is available for the composers' residences.