Wien Museum Karlsplatz
On the seventh of April 1766, Joseph II granted public access to the Prater imperial hunting grounds. The 250th anniversary of this event presents a prime opportunity to focus on the diverse and varied history of the Prater.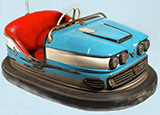 Opening on 9 June at the Wien Museum Karlsplatz:
If clothes make the person, headwear is the most visible sign of identity. "A Tip of the Hat" narrates a rich and multi-faceted social history of the covered head.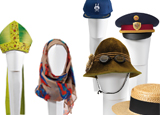 Wien Museum Karlsplatz
A gifted draftsman, Rudolf Weiss was one of Otto Wagner's last students. The exhibition presents Weiss's little-known but visionary designs.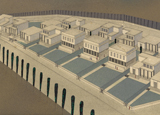 Römermuseum
Recent excavations of the Rochus Market offer exciting new insights into the history of Vienna, documenting the first tangible evidence of an encounter between Romans and Celts in our latitudes.
News from the Wien Museum
A gem of Viennese Modernism!
Vienna's fin-de-siècle forms the backdrop for the prodigious career of Vienna's pioneering modernist architect and city planner. A mere minute away from the Wien Museum Karlsplatz!
Sisi's Palace of Dreams
Opulence surrounded by the natural beauty of the Vienna Woods. Nowhere in Vienna is the experience of imperial domestic life more authentic than in "Sisi's Palace of Dreams."
Brochures
The Wien Museum provides downloadable material (information brochures in PDF format) in English. Info in Japanese is available for the composers' residences.
Pratermuseum
The Prater is 250 years old, and we're celebrating with extended hours through 31 October! Open Tuesday to Sunday and public holidays, 10 a.m. to 1 p.m., and 2 p.m. to 6 p.m.