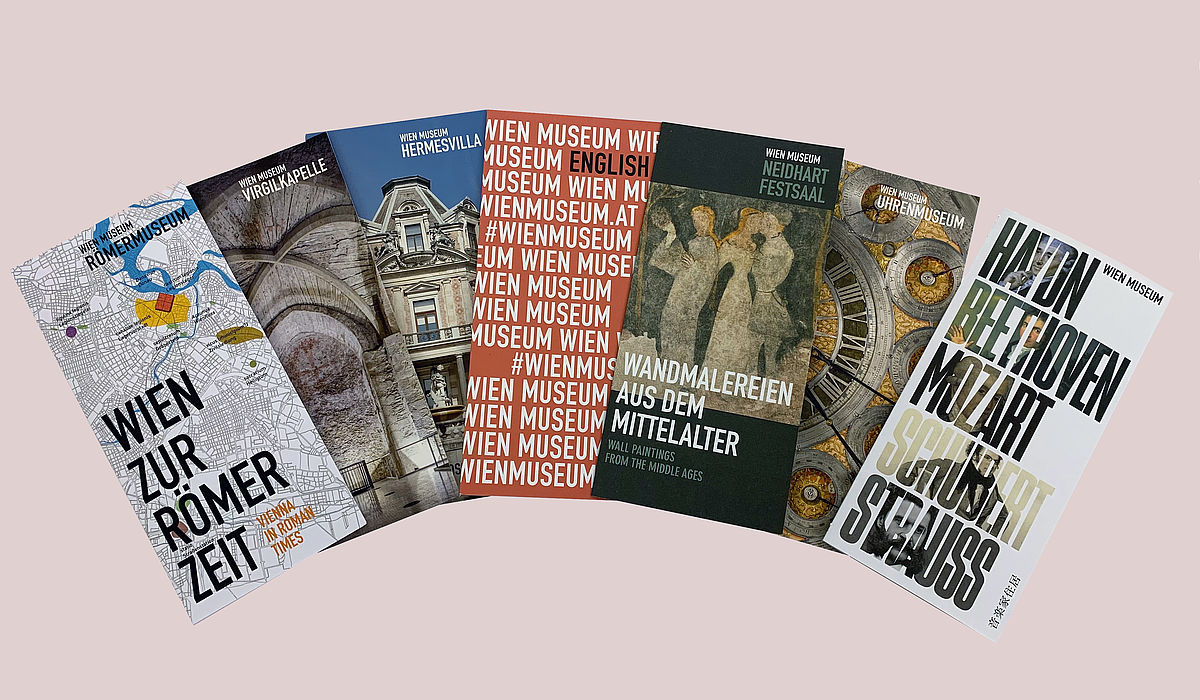 Information in foreign languages
Below you will find downloadable material in English for all the Wien Museum locations. Info about the composers' residences is also available in Japanese.

Museum Overview
Besides the main building at Karlsplatz, 19 more locations await your visit – from the Hermesvilla to the Pratermuseum. The Overview provides brief information about all of them in English language.

Wien Museum Overview in English

Hermesvilla
Situated in an idyllic setting in the middle of the former imperial hunting grounds, now Lainzer Tiergarten, is the "Palace of Dreams", as Empress Elisabeth once called her villa. Emperor Francis Joseph gave it to her in the hope of persuading his wife – a keen traveller – to spend more time in Vienna.

Hermesvilla information in English

Musician Apartments
The Wien Museum takes you to original locations: be our guest at the homes of such luminaries of the music world as Mozart, Beethoven, Strauss or Schubert.
Musican apartments information in English

Musican apartments information in Japanese

Neidhart Festsaal
The Wien Museum has the key to some of the most precious treasures in the city. A work of great rarity and value are the Neidhart Frescoes, the oldest secular mural paintings in Vienna.

Neidhart Festsaal information in English

Otto Wagner Hofpavillon Hietzing
Construction of the Stadtbahn, a metropolitan railway for Vienna, was the biggest infrastructure engineering project in the city around 1900.

Otto Wagner Hofpavillon Hietzing information in English

Otto Wagner Pavillon Karlsplatz
Breathing fresh life into a jewel of art nouveau: a permanent exhibition documenting Otto Wagner is being presented in the Stadtbahn Pavilion on Karlsplatz.

Otto Wagner Pavillon Karlsplatz information in English


Pratermuseum
The Prater. An oasis of nature near the center of Vienna. A lively amusement park with its iconic Ferris wheel. Just as special as the Prater is its museum: an impressive display of the changes that have taken place in Vienna's eerily beautiful entertainment culture since the 18th century.

Pratermuseum information in English
Römermuseum
The underground area of the Roman Museum contains the remnants of two tribunes' houses, Vienna's most important archaeological finds from this era.

Römermuseum information in English

Uhrenmuseum
700 clocks from around the globe marking time in an enchanting Old Viennese building. A multi-faceted story of technological precision and design trends in the decorative arts.

Uhrenmuseum information in English

Virgilkapelle
Dating back to 1220 –1230, the Chapel of St. Virgil is one of the best-preserved Gothic interior spaces in Vienna. It was conceived as the foundation of another chapel planned for Stephansplatz.

Virgilkapelle information in English