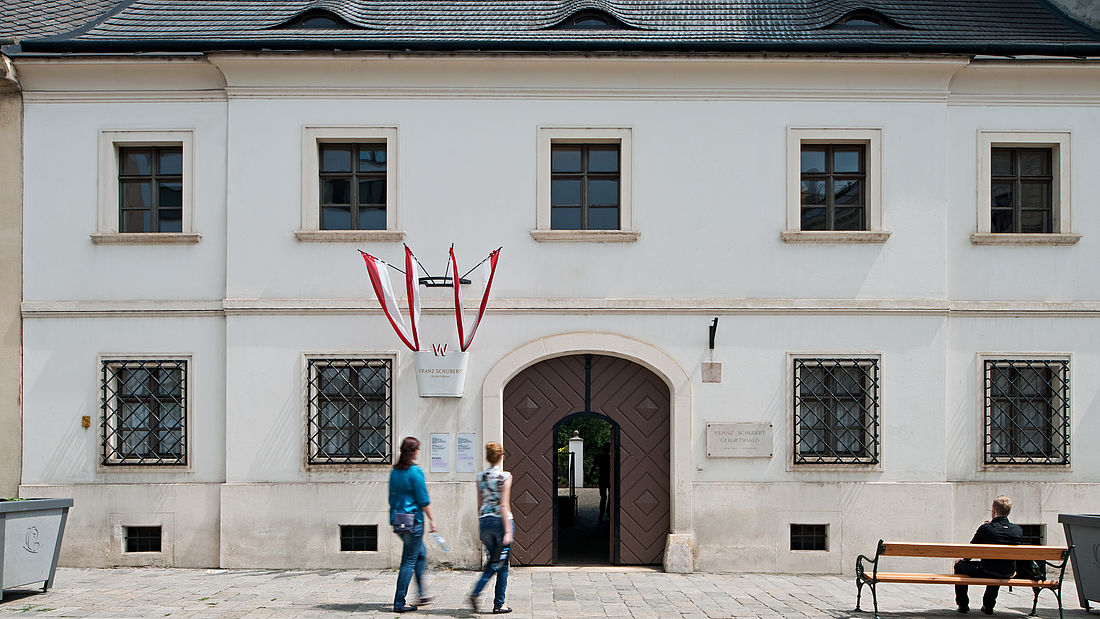 Opening Hours

Tuesday to Sunday and public holidays,
10 a.m. to 1 p.m. and 2 p.m. to 6 p.m.
24 December and 31 December 2021:
10 a.m. to 1 p.m.
Closed: 1 January, 1 May, 25 December, and all public holidays falling on a Monday
1090 Vienna, Nußdorfer Straße 54
Visit the 6 apartments of Ludwig van Beethoven, Johann Strauss, Franz Schubert and Joseph Haydn at a special price with our combination ticket. The ticket is valid for 12 months from the first visit.
The Musicus tickets purchased in 2020 have an extended validity until the end of 2021.
There are so many places where the Wien Museum offers you the chance to explore the history of the city not only at the museum but also directly on the spot. This is the house where the great composer Franz Schubert was born on 31 January 1797.

It was then called "Zum roten Krebsen" (The Red Crab) and was situated in the Viennese suburb of Himmelpfortgrund. Here Schubert spent the first four and a half years of his childhood. The apartment of the large family consisted solely of one room and a "Rauchkuchl" (kitchen with open fire).
Today a large part of the top floor is dedicated to the memory of the composer. It presents an impressive documentation of his musical development, his circle of friends, and the important stages of his life. One of the rooms shows numerous portraits of the composer. But the item that frequently fascinates the public most is a seemingly unspectacular pair of spectacles belonging to the composer, which became the "trademark" of Schubert veneration.

In addition to the most famous contemporary portraits of Schubert by Wilhelm August Rieder, Moritz von Schwind and Leopold Kupelwieser, Franz Schubert's glasses, his "trademark" so to speak, are among the highlights of Schubert's birthplace. Due to the Wien Museum's major exhibition in Japan this year, neither Schubert's glasses nor the portrait of Wilhelm August Rieder can be seen at the moment. We ask for your understanding!

The house also includes the Stifter memorial rooms. Some fifty paintings demonstrate the great Austrian author's talent as a painter.