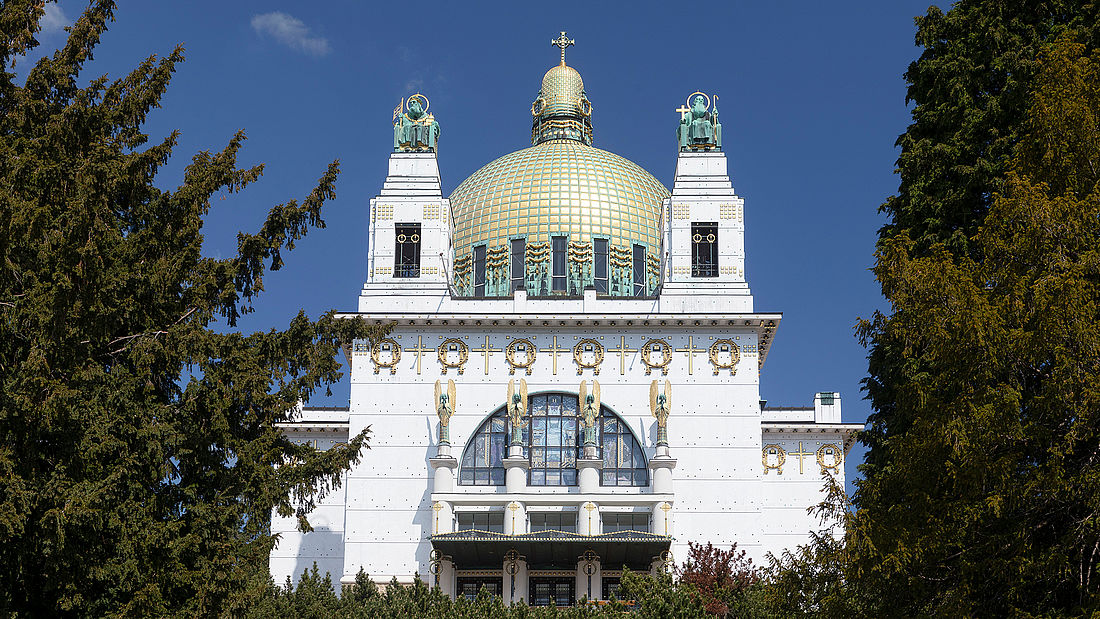 Otto Wagner Kirche am Steinhof
Opening Hours

Saturday, 2 p.m to 5 p.m.
Sunday, 11 a.m. to 5 p.m.

Jun. 3, 2023 – Oct. 29, 2023:
Saturday and Sunday, 11 a.m. to 5 p.m.
1140 Vienna, Baumgartner Höhe 1
Otto Wagner's Church of St. Leopold at Steinhof is one of the most famous buildings in Vienna as well as a key work of 20th century architecture. The first modern church in Europe stands at the highest point of the former "Lower Austrian Provincial Sanatorium and Nursing Home for the Nervous and Mentally Ill". Wagner's church dates back to a competition that he won in 1902. The pavilions and outbuildings of the hospital were designed by Carlo von Boog, whose site plan was subsequently revised at Wagner's suggestion. That made the church the dominant feature of the entire complex, visible from various points across Vienna.

Wagner took inspiration from European architectural history, from Byzantium to Viennese Baroque to Classicism. The formal language itself, however, is completely free of historical borrowings, the ornamentation consistently modern. The cladding with marble slabs stood for a spare and hygienic architecture - a claim that was also continued in the interior, where the design was adapted to the needs of a psychiatric sanatorium and nursing home.

Among the artistic highlights of the spacious and bright church interior are the glass mosaic windows by Koloman Moser. The entire interior of the church was designed by Otto Wagner and his studio and is a unique "Gesamtkunstwerk" of Viennese modernism.
Guided Tours
Booking of guided tours is currently only possible by telephone +43 (0)1 505 87 47 85180 (Mo- Fr, 9 a.m. to 2 p.m.) or by E-Mail (service(at)wienmuseum.at).