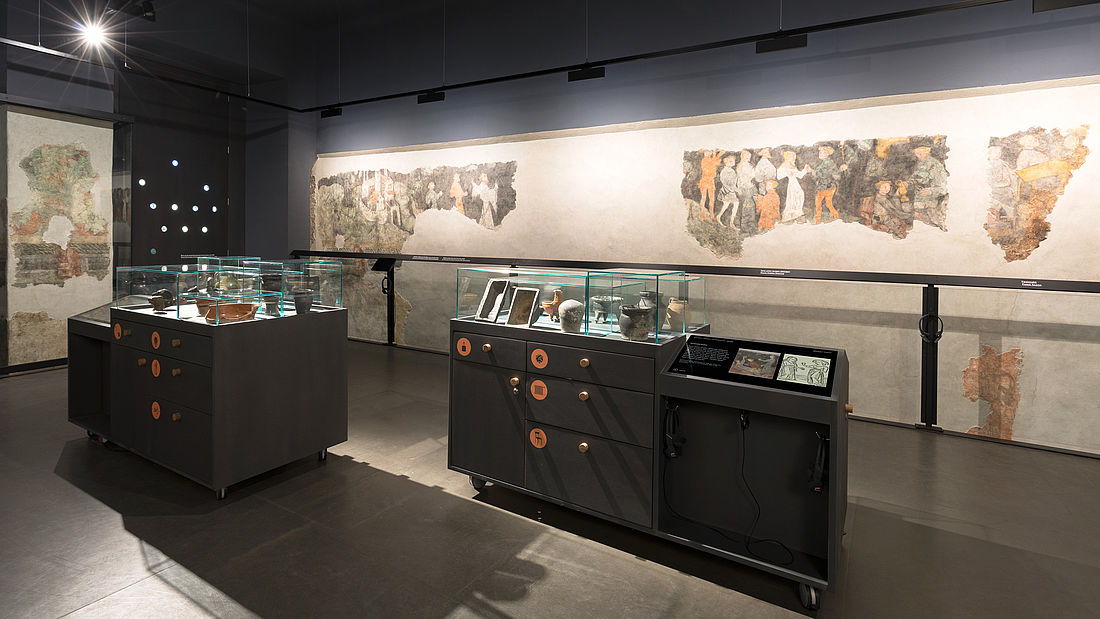 Opening Hours

Tuesday to Sunday and public holidays,
10 a.m. to 1 p.m. and 2 p.m. to 6 p.m.

Dec. 24, 2023 and Dec. 31, 2023:
10 a.m. to 1 p.m.

Closed: Jan. 1, May 1, Dec. 25, 2023 and all public holidays falling on a Monday
1010 Vienna, Tuchlauben 19
It was a sensation when, in 1979, workers discovered Vienna's oldest secular wall paintings during the restoration of the building at Tuchlauben 19. They were created around 1407 as the ornate decorations of wealthy cloth merchant Michel Menschein's private dance and banquet hall. The lively images represent songs by the composer Neidhart von Reuental (ca. 1180-1240). They tell of love and feasts as well as the tensions between various social strata during a time of massive social change. Neidhart's tradition of song remained alive and came to a new efflorescence one hundred years later. It was the jester Neidhart Fuchs who expanded the repertoire brought it to the Habsburg court. His tomb can still be viewed at the south side of St. Stephens. Neidhart plays remained popular until well into the 15th century – the wall painting's period of creation – and may well have served as their inspiration.

The bustling scenes of the wall paintings are accompanied by a new permanent exhibit designed for all ages but particularly appropriate for schools. The new presentation affords fascinating insights into everyday life in medieval Vienna, highlighting music and dance, fashion and food. The history of the building and the wall paintings and their restoration form another focus of the exhibit.

For Vienna in the Middle Ages, see also Virgilkapelle.