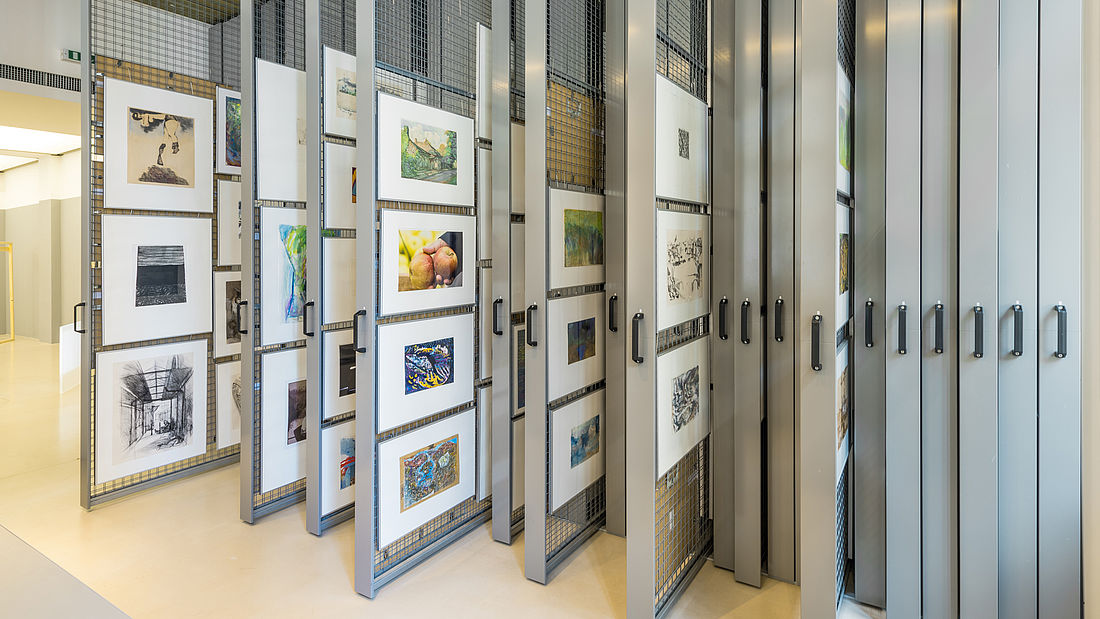 Opening Hours

Tuesday to Friday, 10 a.m. to 6 p.m.,
Saturday, 10 a.m. t0 2 p.m.

Closed: Sunday, Monday, public holidays, Dec. 24 and Dec. 31, 2023
1010 Vienna, Felderstraße 6–8
Please note: Due to a multi-day exhibition of works by artist Herwig Zens, the Artothek's regular loan service will not be available from June 6 to June 10.
---
The Artothek allows Vienna's population to borrow works by living artists for their own homes. The changing set of objects from the Collection of the Wien Museum comprises aroung 1,900 works on paper.

From the stock of originals, up to four artworks may be taken out on loan for a period not exceeding twelve months. All artworks on paper are mounted in passepartouts and presented in aluminium frames with plexiglass. The loan charge is Euro 2.50 per artwork and month and must be paid in advance since this amount also covers an insurance premium. For their first artwork loan, clients must bring along an official identity card with photo and furnish information about their place of residence.
Contact:
Esther Stipanits
P: +43 1 505 87 47-85168
E: esther.stipanits(at)wienmuseum.at

Mag. Corina Vetsch
P: +43 1 505 87 47-85168
E: corina.vetsch(at)wienmuseum.at
List of Artists
A
Ablinger Ef
Aichenegg Hermine
Akimoto Ellen
Alberti Alisa
Alicehajic Estera
Altmann Jeremias
Ammann Kurt
Andorfer Gerhard
Anibas Martin
Anzinger Siegfried
Asboth Oscar
Aspetsberger Friedberg
Ates Bugrakagan, 'Rakisquad'
Attersee Christian Ludwig
Auersperg Sigrid-Heide
Augusta (Hohenbüchler) Juli
B
Babits Heinrich
Baldasti Gerhard
Baldinger Peter
Balic Tahir Emin
Balkanski Pencho
Baminger Wolfgang
Barabbas Harun Ghulam (Mayrhofer Claus)
Barek Bernhard
Bares Josef
Bartrix-Ziegler Barbara
Basdera Franz
Bauer Günther
Bauer-Stein Elisabeth
Baum Judith
Baumgartner Alexandra
Bayer Franz
Bayer Lise Lotte
Beck Gustav Kurt
Beck Otto
Beinrücker-Fleck Gisela
Benkovic Karl
Berdyszak Jan
Berger Günther
Berger Maximilian
Berger Walter
Bergler Fritz
Bernik Janez
Bernsteiner Georg Johann
Beschorner Lieselott
Biedermann Christa
Bielefeldt Lutz
Binder Karin
Bircher Betyna
Bischof Andrea
Bischof Hermann
Bixner Viktoria
Blaas Franz
Bless Notburga
Böck Roland
Böhm Gustav Christian
Böhm Wolfgang
Bohrn Ingeborg
Bolt Ronald
Bonin Joac
Borsodi Ferenc
Bösen Marion
Bracher Erwin
Brandl Herbert
Brauer Arik
Breiter Herbert
Bremer Uwe
Bretterbauer Gilbert
Buchegger Petra
Bugrakan Attes
Bunin Pavel
Burwitz Nils
C
Camenzind Julia
Capellari Wolfgang
Cero-Friedl Emma
Cervenka Gerhard
Chesham Diana
Chicken Andy
Choung-Fux Eva
Chramosta Cyril
Cislaghi Hillamaria
Cmelka Helga
Coleman Michael
Colturani Francesca
Comerford Jonathan
Creimer Georgia
Csermak Hanna
Csutak Magda
Csuvala Walter
Czihak Elisabeth
D
Dagdelen Canan
Damisch Gunter
Danner Andrea
De Vivanco Ivana
Debrichy Pauline
Degasperi Ernst
Degn Christof Helmut
Deisenhammer Fridolin
Demirgören Bora
Demus-Schneider Dorothea
Dermota Nicoletta
Deutsch Mathias
Diem Eduard
Diener-Hillinger Trude
Diezl Katharina/Kater D
Diomis Cornelia
Dobes Milan
Dobretsberger Eva
Dobrovich Jörg
Donin Christoph
Doppel Dominik
Dotrel Peter
Drechsel Elisabeth
Dressler Markus
Drexel Peter
Drioli Anton
Dural Ahu
Dworak Peter
E
Eberl Irmgard
Ebmer David
Ebner-Ferjanc Emmy
Ebster Manfred
Ecker Gottfried
Ecker Pamela
Eden Irina and Stijn Lernout
Eibatova Karina
Eibl Wolfgang
Eiselt Ferdinand
Ekhart Godwin
Elis Johannes
Emami Nima
Endlicher Michael
Ernst Elisabeth
F
Fajo Janos
Feferle Jonas
Feichtinger Christian
Ferstl Daniel
Feusi Alexandra
Fiala Kurt
Fiala-Einstein Walter
Filipović Vukadin
Filipp Fritz
Fink Tone
Fischer Fritz
Fischer Heinz Peter
Fischlhammer Hubert
Fladerer Herbert
Fladl Heimo
Flora Paul
Födinger Laszlo Lilli
Forst Esther
Frank Erna
Frank Gisela
Frank Karin
Frank Monika
Franz Dietmar
Frauenschuh Georg
Freiler Thomas
Freundlinger Kurt
Fridvalszki Mark
Friede Fedele
Friedrich Annika
Friesz Noah
Fritz Ronald
Frohmann Nora
Frohner Adolf
Fronius Hans
Frühling Ludwig
Fruhmann Johann
Fuchs Herbert
Furtschegger Frank Maria
G
Galdberger Sabine
Gámenczy Margit
Gangl Max
Ganzer Leopold
Gappmayr Heinz
Gartner Joachim-Lothar
GELITIN
Genser Jari
Genzken Florian
Gerstacker Ludwig
Ghezzi Manuela
Gierer Anita
Gironcoli Bruno
Glass Krzysztof
Glawischnig Lisa
Glettler Stefan
Gnädinger Rebekka
Göbel Heinz
Goeschl Roland
Goetzl Amelie
Gohlke Heinz
Gold Mary
Goldstein Gary
Golob Egidius
Goubran Jakob
Grabner Egon Ferdinand
Graf Franz
Graf Inge + Zyx
Gratz Dominique
Gredler Martin
Gredler Rupert
Greissing Heinz
Grosch Hans
Gross Gertraud
Gruber Rupert
Grünberger Franz
Gsteu Ada
Gstrein Günther
Gudlaugsson Gudbjatur
Guerino Armin
Günther Juliane
Gutglück Sten
Gwiggner Bernhard
Gyrcizka Evelyn
H
Haberl Margarethe
Hackbeil-Krüger Luis
Hadraba Regina
Haehnle Enne
Hague Isgard
Haider Hermann
Haller Roman
Hametner Franz
Hammer Matthias
Hanakam/Schuller
Hanghofer Wolfgang
Hanna Robert
Hansen Bahia
Haròm Tizén
Harsanyi Laszlo
Härtel Hermann
Harthoorn Claudia
Hartig Jorg
Hartmann Peter
Haubert Ran Waltraud
Haugeneder Julia
Hausegger Marlene
Hausmann Margarete
Hausner Rudolf
Hawelka Josef
Hayward Julie
Hedwig Michael
Hehn Walter
Heidegger Günther George
Heis Franz
Helfert Wilhelm
Herber Karin
Herberth Franz
Herzele Margarethe
Herzig Wolfgang
Hessel Christof
Hetzer Elvira
Heuer Heinrich
Heumesser Kurt
Hickel Elisabeth
Hideg Kornél
Hinterhuber Christoph
Hintersteiner Stefanie
Hochmuth Rosemarie
Hochrieder Lukas
Hoechtl Valli
Hofer Siggi
Hofer-Slattery Herta
Hohenbüchler Irene
Höller Barbara
Hollegha Margarethe
Holub Barbara
Holzer Adi
Hölzer-Weinek Irene
Holzer Adi
Holzer Michael, 'Mickey Universe'
Hölzer-Weinek Irene
Holzner Armin
Homayouni Samir
Horacek Ferdinand
Horak Helmut
Hörl Linde
Horsky Michael
Hörtnagl Erich
Hörtner Sabina
Horvath Franz
Horvath Joze (Jaki)
Hosseini Reihaneh
Houlding Jonathan
Hradil Rupert
Hrdlicka Alfred
Hrynasz Gert
Huangpu Xiaolan
Huber Lisa
Huber Moni K
Hubmann Monika
Hudecek Emy
Huemer Judith
Hummer Maria
Hundbiss Sophie
Hutter Sigmund
Hutter Wolfgang
I
Ingerl Kurt
Insam Ernst
Ipsen Poul Janus
Isacson Lars
J
Jackson Lydia
Jakob Fritz
Janisch Rudolf
Janisch Sonja
Januszchewski Zygmunt
Jascha Heribert
Jekel Otto
Jerabek Günter
Jöchl Hans
Joos Hildegard
Jurtitsch Richard
K
Kabas Robert
Kaiser Leander
Kaiser Nanna
Kalivoda Peter
Kaltseis Christoph
Kaludjerovic Dejan
Kandl Johanna
Kapfinger Otto
Karger Alfred
Kasalicky Luisa
Kaufmann Anna
Kaufmann Wilhelm
Keckeis David
Kellermann Leopold
Kemminger Josef
Kempinger Herwig
Kern Josef
Kerndl Judith
Kesselgruber Ilse
Kiendlhofer Alois
Kienesberger Johann
Kierulf Annette
Kirchmayr Reinhold
Klamminger Kevin
Klapf Udo
Kleinpeter Dieter
Klem Hildegard
Klinkan Alfred
Klitsch Peter
Klucaric Claudia
Knaack William
Knaus Helmut
Knifer Julije
Kny Gerhard
Koch Angela
Köck Getraud
Kofler Ernst
Kohler-Heilingsetzer Margret
Kölbl Martha
Kolitscher Guido
Koller Christian
Koneva Helene
Königshofer Walter André
Konrad Hady
Konrad Irene
Köppl Karin
Korab Karl
Kordina Brigitte
Kordon Renate
Kosel Hermann
Koslik Uta
Kraus Günther
Kravagna Michael
Krawagna Peter
Kreidl Karoline
Kreinecker Magdalena
Kremsmayer Hermann
Krenn Hans
Krepczik Hilde
Kressnig Eric
Kriebaum Rudolf
Krinzinger Jakob
Krobath Walter
Kroiss Christina
Krüger Doris
Krumpel Helmut
Kühn Joseph
Kurucz Tibor
Kussian-Pink Ilse
Kutschera Stepanek Beatrix
Kvasnicka Christian
L
Lam Fung
Laminger Peter
Lang Kurt
Langer Lilly
Lapinsky Tadeusz
Larot Dina
Lassalle Charlotte
Lassnig Maria
Lattner Heimo
Lebschik-Anzinger Marie Luise
Lebzelter Georg
Lechner Franka
Lechner Michael
Lecomte Tatiana
Lee Soohoon
Leimer Sonia
Leinen Judith
Leinfellner Henriette
Leitner Heinz Günther
Lekic Branislav
Len Ernst
Lesniewski Xenia
Levernez Larissa
Lieskuonig Inge
Lima Ernst
Linschinger Josef
Linsinger Christa
Lipka Bernhard
Lissy Christoph
Lister Denise
Lochmann Bernhardt
Löcker Gottfried
Loewen Link
Logar Lojze
Logothetis Julia
Lötsch Doris
Lotz Martin
Louis-Minnigerode Veronika
Luby Franz
Luger Sabine
Lynas Shaun
M
Macek Elfriede
Maderna Marianne
Maderthaner Franziska
Maier-Schlager Inge
Maislinger Michael
Maltzahn Katrin von
Maksutay Yelena
Mandl Reinhard
Manz Werner
Margreiter Dorit
Margreiter Helmut
Markowitsch Robert
Markus Ilse
Matejka-Felden Gerda
Mathawabhan Prima
Mathewson Stephen
Mathias Emanuel
Matsukawa Takako
Matthews Stuart
Mayr-Keber Gerd
Mayr Leo
Mayrhuber Sepp
Mazzora Heinz
McCree Jonathan
Meier-Schomburg Erika
Meinhardt Klara
Meister/Meisterin unbekannt
Melcher Maximilian
Meloun Eva
Mengolini Aldo
Mentl Werner
Merwart Ludwig
Messensee Jürgen
Mewes Edith
Milec-Celim Werner
Minnigerode-Fischer V.
Mitter Alois
Mizrahi Moritz
Mlenek Hannes
Moecker Thomas
Molacek Rudi
Morawitzky Emil
Moritz Regina
Moro Christiane
Möseneder Eva
Möser Kurt
Mosbacher Alois
Moser Elisabeth
Moser Maria
Moser Susanne
Moswitzer Gerhardt
Muhr Gotthard Richard
Mulavka Oksana
Müller Carmen
Müller Ernst Erich
Müller Gerhard
Müller Karl
Müller-Dennhof Bernd
Müllner Erich Josef
Mundt Ulrike
Muntean Markus
Murzek Christian
N
Nager Helmuth
Nagy Eva
Nemec Thomas
Nemecek Iris
Nenning-Bodner Hannelore
Nerud Josef Karl
Neumann Spallart Gottfried
Neureiter Marie (Nyrom)
Neuwirth Flora
Niemeyer Jo
Nitsch Hermann
Nordegg Cécile
Nowak Fred
Ntontis Sofia
Nussbaumer Günther
Nussbaumer Ingo
O
Ober Hermann
Oberndorfer Alois
Opitz Ingrid
Oran Selim
Orsini-Rosenberg Andreas
Ortag Andreas
Osorio Jaramillo Jaime
Ouboter Trudy
P
Paar Ernst
Painitz Hermann J.
Pakosta Florentina
Pamp Danielle
Panzenberger Kurt
Park Jinyong
Pasiecznyk Herbert
Patermo Bettina
Pätilä Markku
Payer Micha, 'Payer Gabriel'
Peckl Manfred
Penz Gerald
Persson Marga
Petric Eva
Pfaffenbichler Hubert
Pfeifer Silke
Philipp Helga
Pilcz Karlheinz
Pillhofer Josef
Pippal Hans Robert
Pirk Kurt A.
Pirker Leonie
Pisa-Gruber Eva
Pisecky-Lipburger Andrea
Pizzinini German
Plattner Moritz
Pleban Rudolf
Plochberger Harald
Plucar Erika
Pluhar Ingeborg
Podgornik Lisbeth
Pohnert-Resch Rosa
Pokornik Brigitte
Polasek Martin
Pongratz Peter
Popelka Susanne
Pötters Rudolf
Prader Michael
Praetterhofer Hans
Pramel Walter
Praschl Stefan
Praska Martin
Prechtl Marianne
Prelog Drago J.
Preller Nanna
Preuschl Karolina
Priesch Hannes
Prigge Maria Elisabeth
Prihoda Laszlo
Proksch Peter
Pruscha Czeslavia
Pühringer Walter M.
Purucker Stefan
Pusak Rudolf
Puschl Janos
Putz Oskar
Q
R
Rabinovich Boris
Rädler Roland
Radmehr Maryam
Ragab Mustafa
Rahs Eduard
Rainer Arnulf
Rainer Helmut
Rameder Wilfried
Ramskogler Eberhard
Rasp Martin
Rataitz Peter
Rausch Wilhelm
Rebhan Dominik
Redl Markus
Redl-Manhartsberger Brigitte
Reicher Michael
Reinhold Thomas
Reisenbichler Josef
Reiterer Harold
Reitmayer Walter
Renz Cornelia
Repa Waltraud
Reska Mischa
Reuter Gerhard
Riedel Oliver
Riedl Fritz
Riepl Birgit
Riepler Linus
Ringel Franz
Ritter Dimitrij
Rizek Emil
Rodler Christoph
Rösler Norbert A.
Roschker Rosa
Rossi Alfred
Rothe Ella
Rothe Utz
Rothemann Gabriele
Rothwangl Christian
Rotter-Peters Ernestine
Ruck Henry
Rudich Angelina
Rudolf Pavel
Rumpf Peter Alois
Rumpl Jeremias
Rusche Helmut
S
Saatzer Georg
Sakic Stefan
Salzmann Gottfried
Salzmann Karl
Sammer Rita
Sand Walter
Sandner Isabell
Sandner Karl
Saribatur Zekerya
Sattmann Didi
Sayici Berivan
Schabus Hans
Schaffer Irma-Colette
Schagerl Ernst
Schao Lü
Scheibl Hubert
Scheidl Roman
Schellander Meina
Scherer Christine
Scherübl Wilhelm
Schibel Hanna
Schicho Franz
Schlag Alexandra
Schmalix Hubert
Schmees Anne
Schmid Peter Richard
Schmidlehner Isabella, 'ISA Schmidlehner'
Schmied Johann
Schmitt Robert
Schmögner Walter
Schnitzler Elli
Schnur Anna-Luise
Schnur Martin
Schönborn Johanna
Schönwald Rudolf
Schreiber Harald
Schrom Wolfgang
Schu Manfredu
Schubert Jens
Schügerl Herbert
Schuiki Nina
Schuller Florian
Schulz Karl
Schwarz Robert
Schwarzinger Franz
Schwarzwald Christian
Schweifer Petra
Schweikhardt Josef
Schwertberger Dieter
Scott Fullerton Carla
Seber Franz-Oskar
Sedlak Halgund
Segarra Julien
Segatto Aldo
Seidl-Reiter Edda
Seierl Wolfgang
Seifert Grete
Seiz Christof
Semen Ellen
Sengl Deborah
Sengl Peter
Seyerl Lotte
Seywald Erika
Simmerl-Burgis Hannes
Simmons Paul
Singer Willi
Skale Igor
Skhirtladze Tatia
Skricka Ernst
Somogyi Maria
Sopar Christine
Spahn Wolfgang
Sperger Franz
Spurny-Schwarzmüller Elisabeth
Stabe Claus Georg
Stadler Adele
Staffelmayr Heinz
Stangl Anna
Stangl Heinz
Stecher Clemens
Stehli Manuel
Steidl Johannes Karl
Steiner Ernst
Steiner Heinz
Steiner Paul
Steiner Veronika
Steininger Erich
Stejskal Herbert
Sterneck Erna
Stippl Hannah
Stockbauer Hans
Stockburger Axel
Stöckl Peter
Stoitzner-Millinger Josef
Stoklaska Juliane Dr.
Stoletzki Hella
Strebl Martina
Strobele Charlotte
Strobl Ingeborg
Strohmaier Alexander
Strohmaier Walter
Ströher Christine
Sturm Friedrich
Sturm Matthias
Summer Pol
Sündermann Erich
Suppin Lucas
Svenungsson Jan
Svoboda Helmut
Swossil-Lissow Ingrid
Szal Gunda
Szeni Maria
Szigethy Ida
Szloboda Vinzenz
Sztojanovitz Vera
T
Tabatabai Assad
Tambour Wolfgang
Tanzer Andreas
Taupe Johann Julius
Temnitschka Maria
Terber Franz
Thom Horst
Thoma Herbert
Thomschitz Gitta
Tiefner Gerd
Titz Hans Heinz
Tkadletz Herbert
Tobolar Ljubomir
Tomasch Ulrike
Trappl Theresia
Traunfellner Franz
Trubel Otto
Truckenbrodt Marc
Tüchert Ludwig
Türtscher Franz
U
Ungersböck Silvia
Ürgenc Ege Engin, 'Rakisquad'
Urwalek Christoph
V
Vadura Bilek Alena
Vähälä Päivi
Vakulka Lada
Valdez Marino
Valetti Bernd
Vallazza Markus
Vana Franz
Vardanjan Hrachia
Varga Angela
Varzgar Chiva
Veit Peter
Vetsch Corina
Vetter Magdalena
Vinogradova Victoria
Vischer-Leyerer Maria
Vogel Bernhard
Voss Anne Kathrin
Vujacic Veljko
W
Waber Linde
Wagner Heide
Walaschek Doris
Walkensteiner Wolfgang
Walz Günther
Wang Pei-Hsuan
Wania Astrid
Wanke Johannes
Warelopoulos Theofanis
Waske Felix
Wassilew Atanas
Waumann Wim and Francois Stefanie
Weber Harry
Weinmüller Herbert
Weiss Elfriede
Weiss Natalia
Weissenbacher Sebastian
Weitgasser Manfred
Weller Kurt
Werkner Turi
Werner Adolf Karl
Werner Andreas
Werner Kurt
Wettengel Andrea Regine
Wibmer Margret
Wiedner Wolfgang
Wiesauer-Reiterer Heliane
Wiesener Charlotte
Winter Konrad
Wirth Franz Milan
Wirth-Seblatnig Heidemarie
Wlcek Franz
Wochinz Carl
Wolf Karl Anton
Wondrusch Ernst-Ferdinand
Woodborne Judy
Wrobel Michael
Wucherer Egon
Wukounig Reimo
Wulz Hugo
Wurm Gottfried
Würtinger Werner
Wustinger Christiana
Z
Zadrazil Franz
Zdrahal Ernst
Zeller Manfred
Zemrosser Susanne
Zens Herwig
Zenun Edin
Zhou Brothers
Zimolong Wilhelm
Zotter Feri
Zwickelsdorfer Rudolf