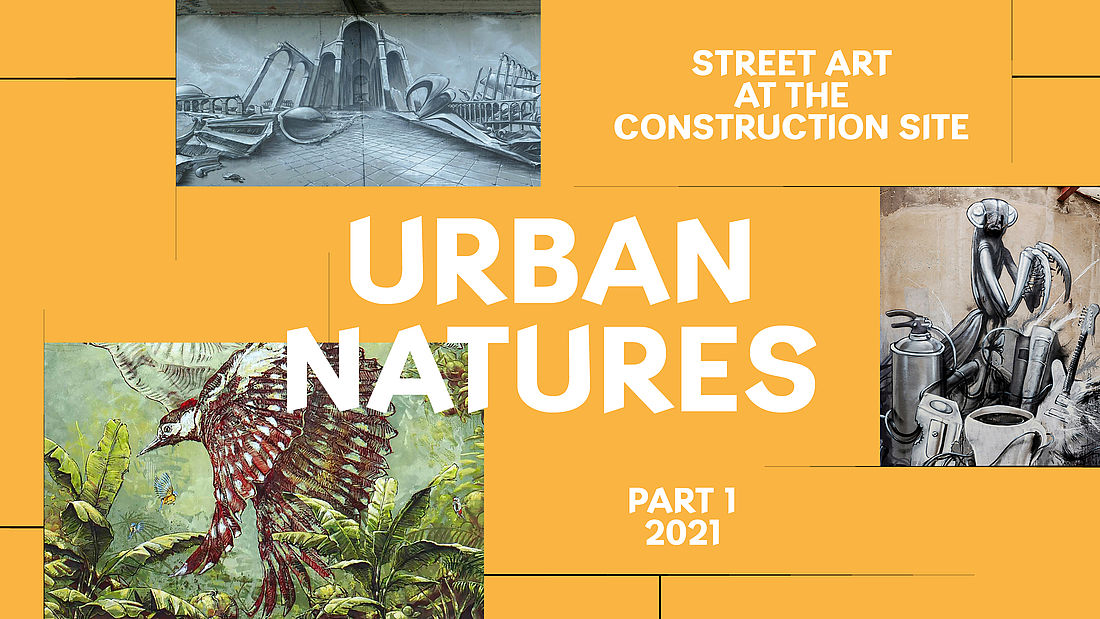 URBAN NATURES
Street Art at the Construction Site

10 June 2021 to 12 September 2021
Wien Museum Karlsplatz Open Air
1040 Vienna, Karlsplatz 8
P: +43 (0)1 505 87 47
Karlsplatz Open Air, the exhibition project on the construction fence of Wien Museum Neu, becomes a canvas for street art in the summers of 2021 and 2022. Today's Karlsplatz is the starting point for the often site-specific art: a place that is as contradictory as it is exciting, where the most diverse forms of use and abuse collide. One of the most famous squares in Vienna, yet not a classic tourist hotspot – a transit zone and green space, venue for events and discourse, location of educational and cultural institutions, problem zone and urban oasis.

Urban Natures
2021 is all about the interface between city and nature, development and the environment. The invited artists deal with different aspects of "Urban Natures". Which forms of nature can be found in the city? What versions of "tamed" nature are created by urban planners? What forms of nature are displaced by urban sprawl?

Few people associate cities with nature. And yet, the natural environment is of immense importance for the quality of life of city dwellers. The Corona pandemic, with its attendant restrictions on movement, has made this even more pertinent, especially in conjunction with the highly unequal distribution of green spaces. Rarely have city parks, gardens, and hiking trails been so heavily frequented; and those who can increasingly turn to private recreational spaces.

Urban nature will continue to gain relevance in the future, both because of the ever-increasing density of the built environment and global climate change which leads to elevated heat stress in metropolitan areas. Simply put, cities must become greener.

With works by:
El Jerrino, Friend, Linda Steiner, Sckre and Video Oner
Duration: June 10, 2021 to September 12, 2022

Curator: Karina Karadensky
Project Development Support: Christine Koblitz
Graphic design: solo ohne - Studio für Gestaltung

---
Wienerwand/Vienna Wall
In addition to the space used by invited artists, a Wienerwand/Vienna Wall will be
located in the area in front of the museum's main entrance -- an officially recognized site for graffiti that can be legally painted and sprayed at any time.
More information ...
---

Part I June 10, 2021 to July 25, 2021: El Jerrino, Sckre and Video Oner
EL JERRINO
Born in Vienna in 1989, Jeremias Altmann is active in the public realm under the pseudonym El Jerrino. Altmann studied intaglio printing at the Wiener Kunstschule (Vienna Art School), as well as graphics and printmaking at the University of Applied Arts in Vienna.

Altmann's artistic explorations in the studio draw primarily on the techniques of painting and graphics, and are characterized by a meticulous serial engagement with diverse themes. In Young Prophecies, for example, he reconstructs and reinterprets drawings from his own childhood. In his Machines series, he demonstrates an interest in the increasingly complex inner workings of technical equipment, which remain otherwise hidden.

For several years Altmann has been working on behalf of the City of Vienna to implement art projects with and for residents of municipal housing complexes.
#eljerrino #jeremiasaltmann


VIDEO & SCKRE
Video Oner and Sckre turn public space into both their studio and an experimentation ground for storytelling. United by an enriching creative partnership, the artistic duo draws inspiration from nature as well as from shared travels, observations, and experiences.

Sckre combines impulses from two worlds: classic "style writing" (a form of graffiti script) on the one hand, and his work as a stage painter on the other. While Sckre focuses on rich background scenarios consisting of landscapes, urban scenes, or abstract elements, Video Oner deals with figurative representations. Starting from quick intuitive sketches, she plays with intertwined animals in motion or in changing states.

Sckre (Frederic Sontag, born in 1988 in Ludwigsburg, Germany) studied stage design and currently works at the Munich Kammerspiele.

Video Oner (Julia Heinisch, born in 1990 in Linz, Austria) studied art history and philosophy in Vienna as well as sculpture and transmedial space at the Kunstuniversität in Linz, where she lives and works.
#video.sckre #video.oner #sckre27

Part II August 5, 2021 to September 12, 2021: Friend and Linda Steiner
FRIEND
Friend has been part of the Viennese graffiti and street art scene for several years and has been active under his pseudonym since 2013. His work focuses on the implementation of site-specific painterly actions, projects, and collaborations with different artists.

Friend's works respond to used and unused surfaces and play freely with urban space. Inspired by everyday surfaces and materials, he combines graffiti with abstract painting, figurative elements, illustrations, and collages.
#friend192


LINDA STEINER
Born in East Tyrol in 1993, Linda Steiner came to Vienna in 2012 to do art. After her education at "die Graphische" (a graphic arts institute in Vienna), she decided to go her own way as a self-taught artist. She was also influenced by her exchange with other artists, including international ones.

In 2016 she joined the Studio Walls atelier. After her first joint wall project in Linz, she founded the Ripoff Crew with Mariella Lehner and Käthe Löffelmann in 2018. Since then, the young trio has been a breath of fresh air on Vienna's street art scene. What unites them despite very different styles is an overlapping interest in feminist discourse, which is often reflected in their work as a crew.

In addition to her large-scale works in public spaces, Steiner's studio work focuses primarily on painting and illustration, as well as print and digital art. Her works demonstrate an intimate engagement with her selfhood and her surroundings.
#linda._.steiner #ripoffcrew


Urban Cultures - An Outlook on Summer 2022
If 2021 is about the nature of the city, next year the focus will shift to its inhabitants. Spaces like the Karlsplatz are quintessential urban nodes. As demonstrations and protests collide with cultural and artistic interventions, they seem like freely accessible meeting places and stages for everyone and all. But who actually occupies such public space and who becomes visible in the process? And whose needs and desires are actually met in the process?

URBAN NATURES
Street Art at the Construction Site
- Information
Press comments
"Street Art übernimmt erneut Wien Museum - Das Wien Museum ist noch bis Herbst 2023 Baustelle. Doch schon jetztbespielt erneut die Wiener Street-Art-Szene das Museum."
Wien.ORF.at, 8.6.2021

"Fassadenkunst vor dem Wien Museum - Vor der Baustelle des Wien Museums am Karlsplatz dürfen sich junge Künstler*innen gerade mit ihren Sprühdosen am Bauzaun austoben."
Wien Heute, 8.6.2021

"Am Bauzaun um das Wien Museum geht es aktuell bunt zu: Verschiedene Street-Art-Künstler gestalten diesen in den kommenden Wochen für die Ausstellung Urban Natures"
Wiener Zeitung, 10.6.2021

"Zaun am Karlsplatz ist jetzt urbanes Kunstprojekt: Das Wien Museum macht seinen Bauzaun zum Kunstwerk. Aktuell wird eine Arbeit von Sprayern zum Thema Urban Natures gezeigt."
Heute, 9.6.2021

"Kunterbuntes statt Grau in Grau: Am Bauzaun um das Wien Museum geht es aktuell farbenfroh zu: Verschiedene Street-Art-Künstler gestalten diesen in den kommenden Wochen für die Ausstellung "Urban Natures".
Vienna.at, 9.6.2021

"Der Bauzaun rund um das Wien Museum im 4. Bezirk wird zur Leinwand. Unter dem Motto "Urban Natures" haben bekannte Graffiti- und Street Art-Künstler*innen die Wände gestaltet."
W24, 10.6.2021
Main Sponsor of the Wien Museum
Exhibition Sponsors