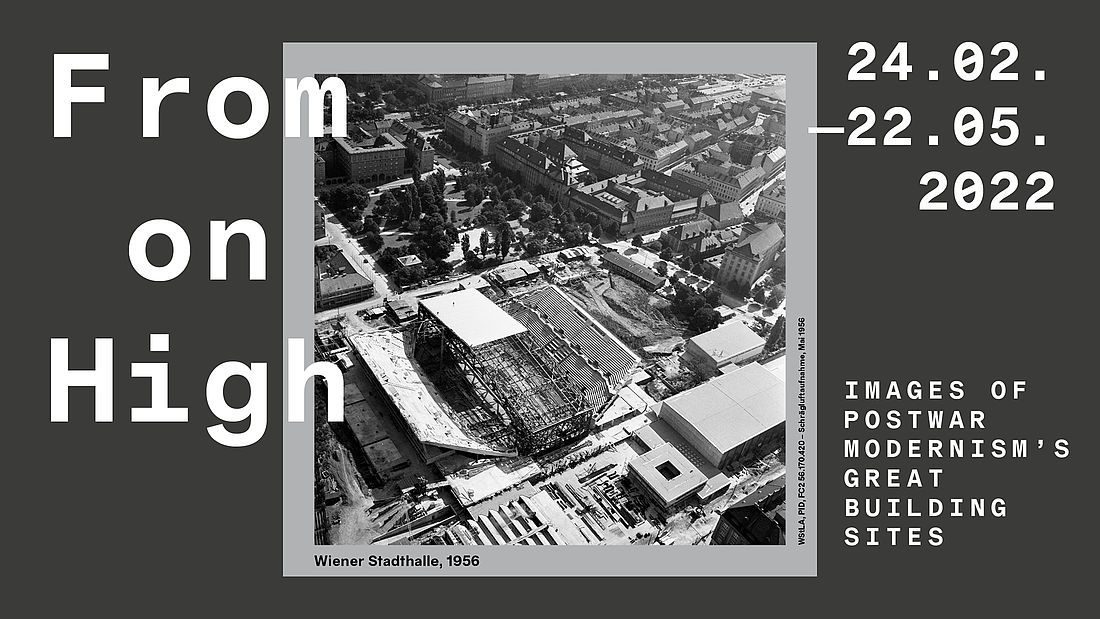 FROM ON HIGH
Images of Postwar Modernism's Great Building Sites
24 February 2022 to 22 May 2022
Through the lens of oblique aerial photography, this exhibition presents significant sites of Viennese urban development from the 1950s to the 1970s. Numerous large-scale public building projects were implemented during this period in the spirit of functionalist post-war modernism. In some cases, they continue to shape the image of the city to this day.

The selection presented in the exhibition's eleven stations directs the viewer's attention to well-known and lesser-known sites of this urban transformation, from iconic architecture to traffic infrastructure and landscaping projects. In the process, the construction site — as concrete place but also as image — proves itself to be both an event and an attraction in public space.

The focus on a special photographic genre is not coincidental. Oblique aerial photographs were important media for urban planning and city representation of the time, to the extent that the press office of the municipality of Vienna commissioned aerial photographs. They allow us a glance over the construction fence and make the transformation of the urban fabric particularly vivid. Blown up in large format, they can also serve as "find-the-hidden-object" images for those interested in urban history or construction technology.
The original presentation, including all images and texts, can be seen here.

Idea: Friedrich Hauer
Curators: Sándor Békési and Friedrich Hauer
Graphic Design: solo ohne – Studio für Gestaltung
Exhibition Design: Robert Rüf
FROM ON HIGH
Images of Postwar Modernism's Great Building Sites - Information
Press comments
"Was gibt es Spannenderes, als Baustellenschauen? Das kann man jetzt am Baustellenzaun – und zwar in doppelter Hinsicht: Das Wien Museum zeigt am Rande der eigenen Baustelle großformatige Luftaufnahmen von den wichtigsten Baustellen der Wiener Nachkriegsmoderne, wie etwa jenen der Wiener Stadthalle, der UNO-City, des Wohnparks Alterlaa und der Donauinsel. Der Bauboom von damals erinnert an jenen von heute."
ORF.at, 23.2.2022

"Einmal Wien von oben sehen und wie sich die Stadt verändert hat. Das ist nun gratis am Bauzaun beim Wien Museum am Karlsplatz möglich."
ORF2, Wien heute, 23.2.2022

"Das Wien Museum zeigt in historischen Fotos die Großbaustellen der Nachkriegszeit. (…) Die Ausstellung offenbart die Genese vieler Orte in der Stadt, die für die Wiener heute so selbstverständlich sind, als wären sie immer dagewesen."
Die Presse, 24.2.2022

"Das Wien Museum macht aus der Not eine Tugend, nutzt den Bauzaun als Freiluftgalerie und bietet mit der Open-Air-Ausstellung "StadtLuftBild – Großbaustellen der Nachkriegsmoderne" einen interessanten Blick auf die Wiener Stadtentwicklung von den 1950er bis in die 1970er Jahre. Eine gute Gelegenheit, bei einem Spaziergang die öffentlichen Bauvorhaben der Nachkriegszeit mit dem heutigen Ist-Stand zu vergleichen und den architektonischen Werdegang Wiens nachzuvollziehen."
Sempre-vita.com, 28.2.2022

"Vieles wurde justament im Wien der Nachkriegszeit, ab den 1950ern, abgetragen – vom nur leicht zerstörten Heinrichshof gegenüber der Oper bis zum Palais Rothschild in der Prinz-Eugen-Straße. Das Wien Museum entsinnt sich nun der Orte und zeigt, wie sich die Stadt verändert hat. In der "Freiluftgalerie" am Karlsplatz bis 22. Mai."
Kronenzeitung, 25.2.2022
Main Sponsor of the Wien Museum