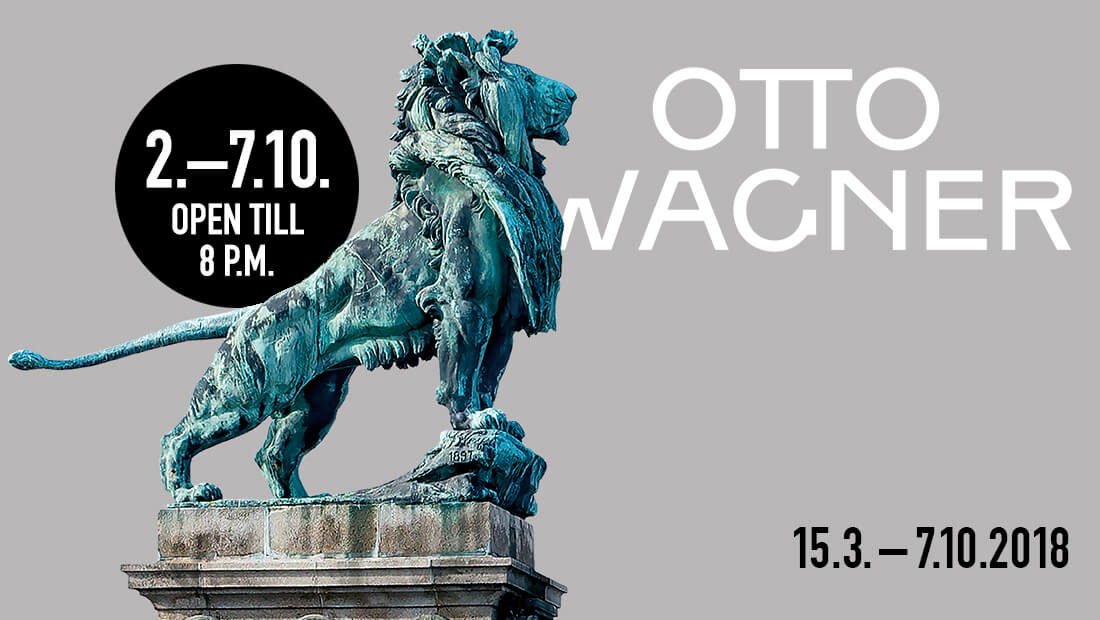 Otto Wagner
15 March 2018 to 7 October 2018
Wien Museum Karlsplatz
1040 Vienna, Karlsplatz 8
P: +43 1 505 87 47
Otto Wagner (1841-1918) is one of the most significant architects of the turn of the twentieth century. His building projects—among them the City Railway (Wiener Stadtbahn), the Postal Savings Bank (Postsparkasse), and the Church at Steinhof—are regarded as milestones on the path from historicism to modernism.

Wagner was a visionary. He recognized that a historicist architecture fixated on the past stood in contradiction to the political, economic, and social dynamics of his time. As a response, he designed a radiant and rational architecture of the future, one that rested on the relationship between function, structure, and novel building materials. Wagner's radical designs represented a clear break from the past for advocates of modernism but were viewed by defenders of tradition as sheer provocation. For this reason, many of Wagner's projects remained unrealized, including his plan for the City Museum on Karlsplatz. The current Wien Museum building was later erected on the same site.

The Wien Museum's comprehensive jubilee exhibition in 2018 coincides with the one-hundredth anniversary of Wagner's death, and is the first major exhibition dedicated to this titan of urban architecture in over fifty years. The exhibition locates Wagner's oeuvre in relation to his companions and opponents, illuminates his artistic, cultural and political environment, and conveys a sense of his international appeal. Exquisite drawings, models, furniture, paintings, and personal belongings vividly relate the story of Wagner's prodigious career. Most of these objects are from Wagner's estate, one of the treasures of the Wien Museum's collection. Several objects will be on view to the public for the first time—an invitation to rediscover this great architect anew.

The exhibition is accompanied by a richly illustrated publication of 544 pages. In addition to numerous contributions by renowned authors, it contains the first complete inventory of all buildings, projects and designs by Otto Wagner.


Otto Wagner - Information
Press comments
… Wozu eine Otto-Wagner-Ausstellung, ließe sich banausenhaft fragen, ganz Wien ist doch schon eine [….] Dass Wagners Bauten ohnehin genug zu erzählen haben, war offenbar auch die Meinung so mancher Museen, denn auf die erste fundierte Ausstellung 1963 im historischen Museum der Stadt Wien folgte bis heute nichts Vergleichbares. Nicht nur deshalb ist die nunmehrige, von einem großartigen Katalog begleitete Schau des Wien Museums (bis 7.10.) durchaus epochal zu nennen.
("Der Kurier", Print-Ausgabe, Michael Huber, 16.3.20158)

Unglaublich auch, dass die letzte große Otto-Wagner-Ausstellung in Wien 55 Jahre her ist. Das spornt an, ins Wien-Museum zu gehen und auch den sensationell schönen Katalog zu lesen. Es ist vielleicht für viele die letzte Chance in ihrem Leben, Otto Wagners Werk derart fundiert präsentiert zu bekommen. Man sollte sie nützen.
("Die Presse", Print-Ausgabe, Günther Haller, 15.03.2018)

Es ist nicht nur aus dieser Geschichte heraus folgerichtig, dass die Ausstellung anlässlich des 100. Todestags von Otto Wagner in Oswald Haerdtls Bau von 1959 am Karlsplatz zu sehen ist. Das Wien-Museum verfügt schließlich über die weit größte Sammlung an Objekten aus dem Nachlass. Eine überwältigende Fülle an Zeichnungen, Modellen, Fotografien und Möbeln, die hier in solcher Pracht ausgebreitet wird, dass selbst 1000 Quadratmeter Ausstellungsfläche noch zu klein wirken.
("Der Standard", Print-Ausgabe, Maik Novotny, 11.3.2018)

Eva-Maria Orosz und Andreas Nierhaus bieten einiges auf, um den außerordentlichen Rang des vor 100 Jahren verstorbenen Otto Wagner sichtbar zu machen. Anhand von Zeichnungen, Publikationen, Modellen und Designobjekten erzählen sie den Weg eines gründerzeitlichen Unternehmers, der sich mit eigenen Wohnbauten auf dem Immoblienmarkt etablierte, bis hin zum Generalisten. […] Die Präsentation macht den ungeheuren Einfluss Wagners auf die Wahrnehmung Wiens sichtbar.
("Falter", Print-Ausgabe, Matthias Dusini, 28.3.2018)

Eine Wiener Schau zum 100. Todestag zeigt, wie der Architekt Otto Wagner die Moderne begründete. […] Vieles, was Otto Wagner gedacht, entworfen oder publiziert hat, wird ihm nicht zugerechnet. Das zeigt jetzt eine umfassende Ausstellung im Wien Museum, die zum ersten Mal seit Jahrzehnten Otto Wagners Gesamtwerk auffächert. […] Das Wien Museum kann aus dem Vollen schöpfen, besitzt es doch große Teile von Wagners Nachlass, zu sehen sind unzählige seiner atemberaubenden Architekturzeichnungen […], große Modelle, zeitgenössische Fotografien und Designobjekte […].
("Süddeutsche Zeitung", Print-Ausgabe, Laura Weissmüller, 22.3.2018)

Main Sponsor of the Wien Museum
Cooperation Partners