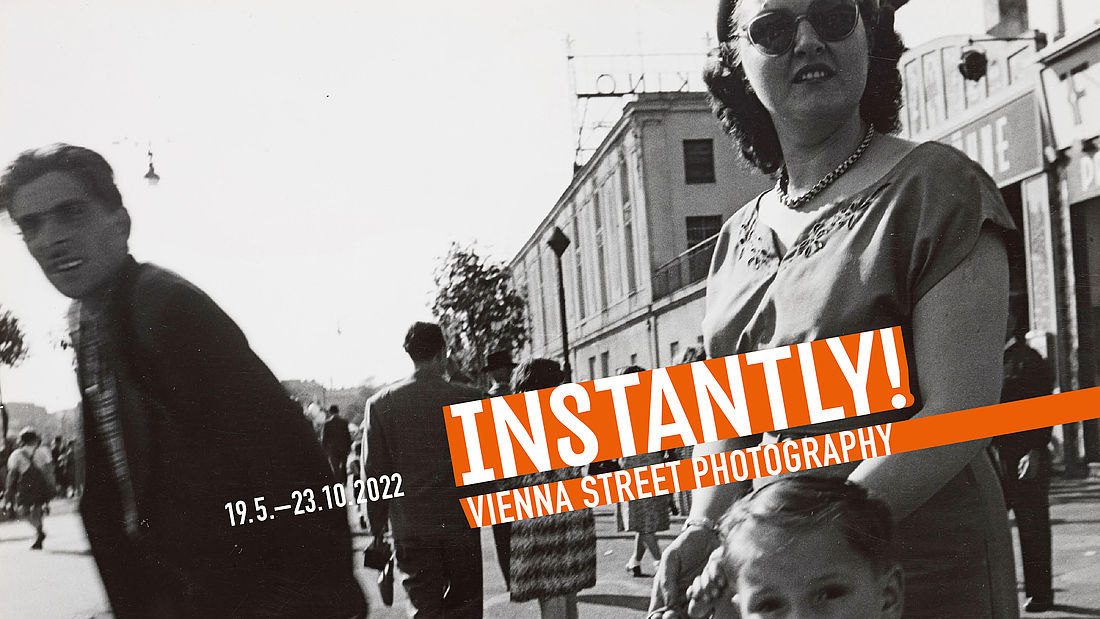 INSTANTLY!
Vienna Street Photography
19 May 2022 to 23 October 2022
Wien Museum MUSA
1010 Vienna, Felderstraße 6–8
P: +43 (0)4000 85169
Vienna's street life in fascinating, never-before-seen photos: The exhibition "Instantly! Vienna Street Photography" traverses the city's pictorial history. Most of the works come from the photo collection of the Wien Museum, which showcases its vast holdings like never before.

The focus of the exhibit is the developing gaze on big city life, from the 1860s to the present. In addition to iconic images of Vienna that capture decisive moments in urban life, the show presents numerous never-before-exhibited or published photographs that bring the city's everyday life as well as the lives of its inhabitants to the fore: impressive street scenes, intimate snapshots, and fleeting glimpses of urban life.

The exhibit shows how the medium of photography functioned in the creation and dissemination of new urban vistas. In this way, the images also tell the story of a rapidly changing metropolis. They capture the hustle and bustle on streets, squares, and markets, uncover unexpected encounters, and document moments of indolence and pleasure. All in all, the exhibition paints a new portrait of the metropolis on the Danube, inviting visitors on an exciting pictorial journey from early urban photography to the Instagram aesthetics of the present.­
---
Instagram Photo Contest #Augenblick2022, accompanying the exhibition "Instantly! Vienna Street Photography"
Moments, instants, snapshots! Which places are Instagramers in Vienna interested in, which street scenes do they show on the net? The focus of the new photo contest is the city as a place of encounters, emotions and for playing with reflections, light and shadow. Whether in color or black and white, with a camera or smartphone, edited or not – you are invited:
Take part in the Wien Museum's Instagram contest and post Viennese Street Photography with the hashtag #Augenblick2022 until June 19, 2022!

A selection of the entries will be presented in the exhibition and rewarded with two free tickets each. For the best three images, there will be an additional award of a catalog and a high-quality print.

In the jury are Alexander Zalokar @a_l_x_ender and Philipp Mohnberg @philipp_mberg, two passionate street photographers. In fall 2020, they founded the platform Wienerblicke @wienerblicke, where they regularly present photographers from Vienna. Also part of the jury are Wolfgang Breyscha as community manager for Instagramers Austria @igersaustria.at and Kilian Prader for Igers Vienna @igersvienna, as well as Christine Koblitz and Frauke Kreutler for the Wien Museum.

Rules of Participation:
Like all forms of social media, Instagram is a public platform. Please, keep the following rules in mind:
Do not embarrass anyone with your photos.
Avoid showing people in contexts they might not wish to be identified with.
Children cannot be recognizable under any circumstances.
---
INSTANTLY!
Vienna Street Photography - Information
Main Sponsor of the Wien Museum
Exhibition Sponsors