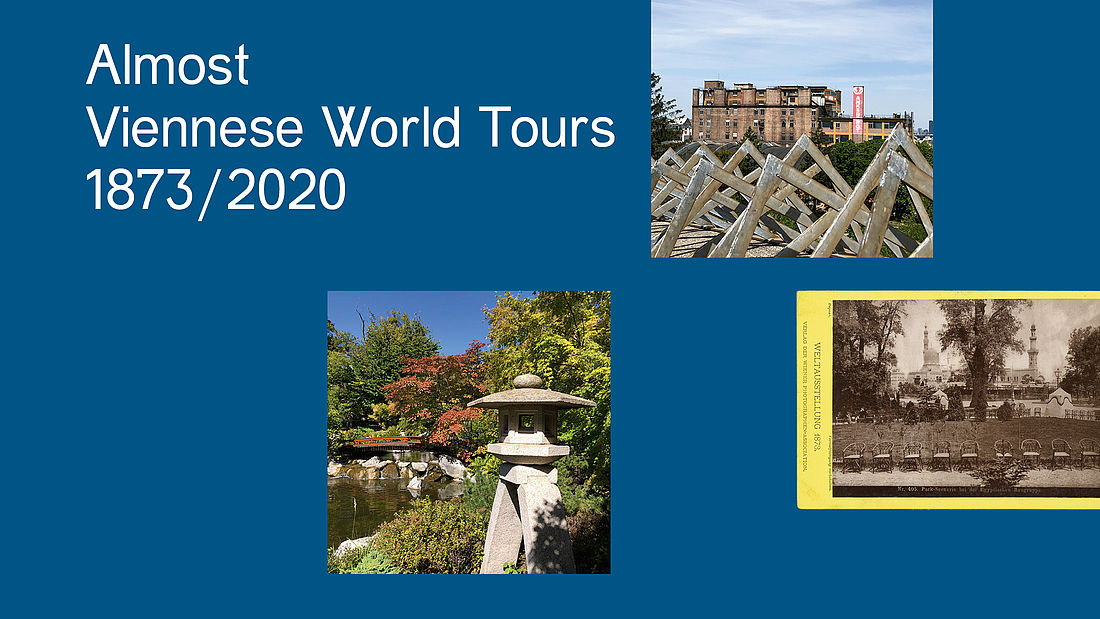 Almost
Viennese World Tours, 1873 / 2020
11 February 2021 to 23 May 2021
Wien Museum Karlsplatz Open Air
1040 Vienna, Karlsplatz 8
P: +43 (0)1 505 87 47
At Karlsplatz it is mandatory to wear an FFP2/N95-mask.
One subject, two photographic forms of mass media, 150 years in between. The Wien Museum's "Almost" exhibition combines two photo series that fall into the genre of "imaginary journeys." The point of departure for these journeys is a project launched by the architecture journalist Wojciech Czaja in the spring 2020. Czaja explored the wide world within Vienna's city limits on his Vespa, photographing buildings, architectural details, and urban atmospheres that reminded him of foreign places and distant metropolises — almost Paris, almost New York City, almost the New Territories of Hong Kong. For months he posted his snapshots on Facebook, triggering a storm of enthusiasm.

The Covid measures of 2020 made travel difficult. 1873 posed difficulties as well: Exploring the world was, in principle, still prohibitively expensive for most people. The World's Fair in the Prater thus offered people the opportunity not only to learn about the latest industrial and cultural achievements of the participating countries, but also to embark on a "world tour in miniature". Spread across the 230-hectare exhibition grounds, roughly 200 mainly temporary buildings invited visitors to do just that. Viennese Photographers' Association offered souvenir photos of these journeys in what was then a new mass medium. The Wien Museum holds hundreds of these photos in its collection.

Spaces of thought open up in this dialogue between the two photo series, spaces that encompass questions of authenticity and similarity, image-formation and cliché, memory and imagination. "Almost" is both a world tour and a journey through time along the construction fence on Karlsplatz.

Photos "Almost": Wojciech Czaja
Photos "Weltausstellung 1873": Wien Museum
Curator: Peter Stuiber
Exhibition Design: Robert Rüf
Graphic Design: solo ohne - Studio für Gestaltung
Instagram-Challenge #AlmostWeltreise
Almost a global tour! Who knows of areas, places, or buildings in Vienna that can remind us of places all over the world? Inspired by the new exhibit "Almost: Viennese World Tours, 1873/2020" with photos by Wojciech Czaja @philopolist, we invited the public– to help us discover further imaginary destinations in Vienna. Posted suggestions with #almostweltreise – the ten most exciting discoveries will be rewarded with signed copies of Wojciech Czaja's book Almost as well as a tour of Vienna with the author and photographer!
Instagram challenge winners:
---
Almost Paris in 1030 @caroline_christina
Almost London im Margaretenhof @melamieja
Almost New York Central Park in Kagran @koeniglaurin
Almost Seoul in der Donaustadt @v.for.vertigo
Almost Moskauer Metro im Hotel Regina @dzerzi
Almost Copacabana in der Messe Wien @annacorena
Almost Beijing im Donaupark) @wienfotografin
Almost Bhutan in Liesing @so_vienna
Almost Orient in Simmering @zvitlo
Almost Edward Hoppers USA in Hietzing @franzhammerbacher
Almost Milano in 1010 @in.wien.mit.wien
Almost Hogwarts im Rathaus @depixtion
Almost Park Guell (Barcelona) in Penzing @justpenzing
Almost Miramare in Ottakring @ronnydevienne
Almost Schweiz im Prater @georgherder
---
Almost
Viennese World Tours, 1873 / 2020 - Information
Press comments
"Wo sich die ganze Welt in Wien versteckt - Wem im coronabedingten Reiselockdown das globe- trotterische Gemüt in Richtung Nullpunkt zu sinken droht, für den hat das derzeit im Umbau befindliche Wien Museum den fotografischen Seelenbalsam bei der Hand: eine Fotoschau, die den Beweis antritt, dass die gesamte Welt ohnedies in Wien versammelt ist."
Kleine Zeitung, 13.2.2021

"Fotos gegen Fernweh - Das Wien Museum lädt zu einer Weltreise innerhalb der Stadtgrenzen ein. (…) Sie (Wojciech Czajas Bilder, Anm.) zeigen Wien - wie man es wahrscheinlich noch nicht gesehen hat."
Magdalena Willert, Kurier, 19.2.2021

"Wo Wien nicht wie Wien aussieht - Wer unter dem Reiselockdown leidet, für den hat das derzeit im Umbau befindliche Wien Museum ein Gegenmittel bereit: Die Fotoschau "Almost. Wiener Weltreisen" (…) Da wirken Industriebrachen in der Favoritener Moselgasse wie Detroit, gleicht der Goldengel am Universitätsring verblüffend der Siegessäule im Berlin Tiergarten oder verbreiten die Neubauten am Mozartplatz Costa-Brava-Feeling. (…) Bei diesen augenzwinkernden Aufnahmen belässt es das Ausstellungshaus allerdings nicht, sondern stellt diesen Fotografien aus 1873 gegenüber, als für die meisten Wienerinnen und Wiener aus ganz anderen Gründen noch nicht an Weltreisen zu denken war.
Wien.ORF.at, 13.2.2021

"Journalist und Stadtbeobachter Wojciech Czaja war auf der Suche nach Plätzen, an denen Wien eigentlich gar nicht wie Wien aussieht. Daraus entstand die beeindruckende Sammlung "Almost – 100 Städte in Wien". Teile davon werden im Wien Museum zu sehen sein. Damit macht er eine Weltreise in einer Zeit möglich, wo man kaum aus den eigenen vier Wänden kommt."
Sybill Dolenz, ORF 2 / Studio 2, 18.2.2021

"Etwas andere "Urlaubsfotos" schmücken das Wien Museum. Eine neue Fotoausstellung vor dem Wien Museum lädt zu einer fotographischen Weltreise ein. (…) Es ist ein ganz spezieller Blick, mit dem der Fotograf Wojciech Czaja die Stadt einfängt."
Ö2 Wien, Stadtjournal, 13.2.2021

"Der Architekturjournalist Wojciech Czaja hat das Reisen kurzerhand in die nähere Umgebung verlegt. (…) Am Bauzaun auf dem Karlsplatz können sich Besucher*innen derzeit ein Bild von der großen weiten Welt innerhalb Wiens machen."
Ö1 Leporello, 16.2.2021

"Die spannende Ausstellung unter dem Titel "Almost – Wiener Weltreisen 1873/2020" kann man bis 28. März täglich besuchen, 7 Tage, 24 Stunden lang und bei jeder Witterung. Reisefieber und Hoffnung nach einem schnellen Tourismus-Restart steigen dadurch umso mehr…"
Oliver Plischek, meinbezirk.at, 18.2.2021

"Weltreise durch Wien - Was aus Langeweile während des ersten Corona-Lockdowns begann, wurde zum einzigartigen Projekt: Journalist und Autor Wojciech Czaja erkundete in Wien versteckte Gassen und unbekannte Grätzel. Dabei fand er Orte, die ihn an ferne Städte und Metropolen erinnerten. (…) Seine Bilder will der Autor als Augenöffner sehen, als Anstoß, mit offenen Augen durch den Alltag zu gehen. "Ich möchte auch Nichtarchitekten verklickern, wie wichtig es ist, sich mit dem Stadtbild auseinanderzusetzen."
Andrea Wipplinger-Penz, Woman, 21.1.2021

Main Sponsor of the Wien Museum