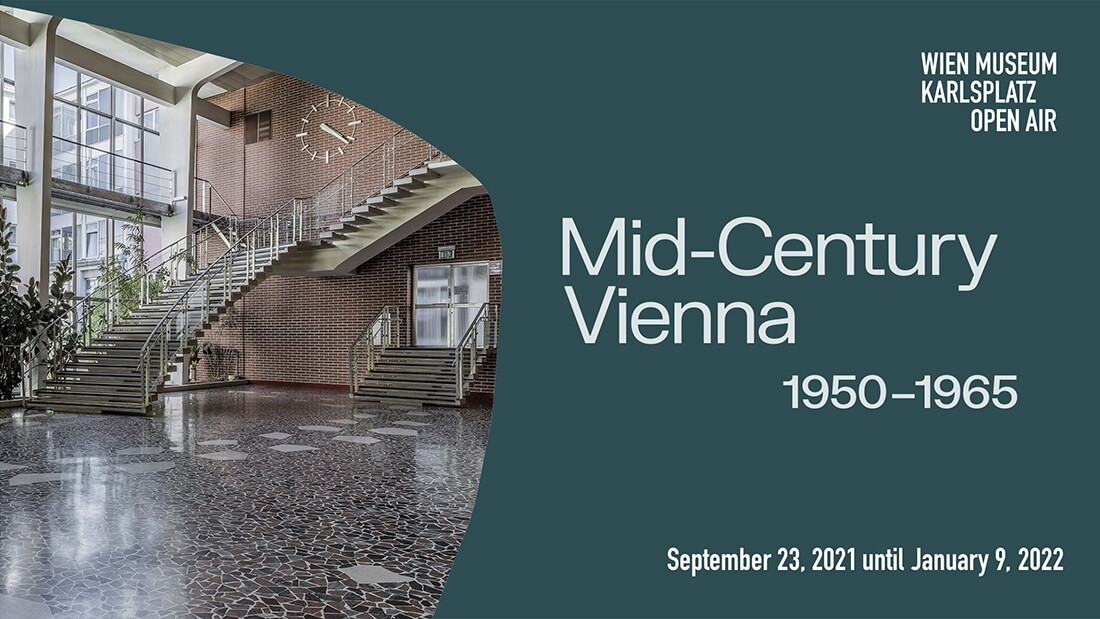 MID-CENTURY VIENNA
1950–1965
23 September 2021 to 9 January 2022
Wien Museum Karlsplatz Open Air
1040 Vienna, Karlsplatz 8
P: +43 (0)1 505 87 47
Architecture and design from the 1950s to the 1960s is everywhere in Vienna. Whether residential buildings, public buildings, urban infrastructure, or leisure facilities, we still use many of these buildings and facilities today.
While landmarks such as the Stadthalle or the Ringturm continue to attract attention, mid-century design is often overlooked in everyday life. This may well have something to do with its stylistic idiom. We encounter no avant-garde here, but rather a conservative modernism steeped in the climate of postwar political restoration, one situated between uplifting vibrancy and petit-bourgeois sentiment. No avant-garde, and no experiments. Predominant among Vienna's postwar architects were those who been allowed to build during the Nazi era, the Austro-fascist years, or the Red Vienna period. Architects who were expelled during the Nazi era or who had already emigrated found no scope for activity in Vienna after 1945. Meanwhile, a young generation was still waiting in the wings.
The graphic designer Tom Koch set out to make visible these omnipresent witnesses to mid-century design in Vienna. Together with photographer Stephan Doleschal, he tracked down buildings, interiors, and "street furnishings" from the early fifties to the mid-sixties. In addition to icons such as the Gartenbaukino, the Stadthalle, or the Café Prückel, lesser-known examples of mid-century design are also represented. Among them are public buildings like the Hans Radl School in Gersthof, the Bisamberg broadcast tower, or the Atomic Institute near the Prater. Leisure sites -- the mini-golf course at the Postsportplatz in Hernals and the Bundesbad Alte Donau -- are rendered as well, as are businesses like the sewing accessories store Hartinger at Spiegelgasse 13 in Vienna's first district.
This exhibition presents these found objects in a modular way. Shapes, colors, and novel materials invite visitors to explore the city anew with a heightened sense of awareness. The topic fits perfectly with the exhibition venue. After all, the Wien Museum, opened in 1959 as the Historical Museum of the City of Vienna, is yet another outstanding example of Mid-Century Design.

MID-CENTURY VIENNA
1950–1965 - Information
Press comments
"Die Entdeckung von Architektur und Design aus dem Mid-Century-Wien. Das Wien Museum zollt den unterschätzten Schätzen der 1950er- und 1960er-Jahre mit einer begleitenden Open-Air-Ausstellung am Wiener Karlsplatz Tribut. (…) Die Möbel aus dieser Zeit, von Designern wie Carl Auböck, Roland Rainer und Oswald Haerdtl, fanden im Zuge der Vintage-Welle bei der Gestaltung von Innenräumen längst die Anerkennung, die sich jetzt auch endlich die Architektur verdient."
Profil, 19.9.2021

"Mid-Century in Wien: Blick zurück mit Sympathie. (…) Das Buch "Mid-Century Vienna" zieht bildlich und textlich eine besondere Zeitschicht aus der Stadtgeschichte Wiens. (…) Dazu zeigt eine Ausstellung des Wien Museums bis 9. Jänner Bilder des "Mid-Century Vienna" am Bauzaun rund um das Stammhaus am Karlsplatz."
Die Presse, 28.9.2021

"Im Wien Museum wird Architektur zum Zeitzeugen. Design-Gustostückerl von 1950 bis 1965"
Wiener Bezirkszeitung, 29.9.2021

"Raise a glass to the 50s and early 60s - The Mid-Century Vienna photographic exhibition draws attention to a neglected post-war period. (…) Mid-Century Vienna slots into a series of exhibitions that make the most of the temporary closure of the Wien Museum (opened in 1959!) on Karlsplatz. The fence around the construction site for the new museum building provides the gallery."
Visitingvienna, 20.9.2021
Main Sponsor of the Wien Museum